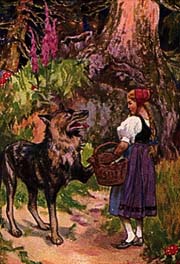 KNOW NAUGHT!
ALL WAYS ARE LAWFUL TO INNOCENCE.
PURE FOLLY IS THE KEY TO INITIATION.
SILENCE BREAKS INTO RAPTURE.
BE NEITHER MAN NOR WOMAN, BUT BOTH IN ONE.
BE SILENT, BABE IN THE EGG OF BLUE, THAT THOU
MAYEST GROW TO BEAR THE LANCE AND GRAAL!
WANDER ALONE, AND SING! IN THE KING'S PALACE
HIS DAUGHTER AWAITS THEE.

If any man among you seemeth to be wise in this world, let him become a fool, that he may be wise. For the wisdom of this world is foolishness with God. --1 Corinthians 3:18-19

Before the fledgling can fly, it first must leave the comfortable nest of security. Only then does it rejoice in its exhilarating freedom. Only then does it soar to new heights. Nature . . . instinctual Wisdom. --Mary Summer Rain

| | | | |
| --- | --- | --- | --- |
| | Back to Tarot | | |
Picture from an 1888 printing of Kinder- und Hausmärchen (Leipzig: Abel & Müller Verlag)
Fool pages created: June 11, 1997; last updated: December 2003.
http://www.moonchild.ch/Tarot/major/Fool/Fool.html