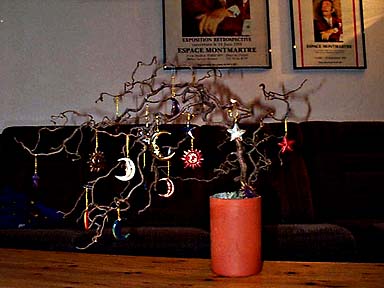 My egg tree gone celestial
-- so I can enjoy it year-round.
The base is a terra cotta spoon holder filled with rocks from the garden.
Had a heck of a time with the shadow from the flash on the wall. I had to try to use the couch as a backdrop. Sorry if it's too dark. Ya can't really see the buds, but it sure is curly, huh?
And speaking of spring equinox decorations, here's my bunnies:

The great thing about a digital camera is that, if you mess up, you can try again. You can play around with taking photos, and don't have to wait til you get your pictures back to see what bad mistakes you made! While I had the camera out, I also took a picture of the wood carving which hangs on my bedroom door: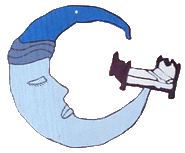 ---