Salvador Dali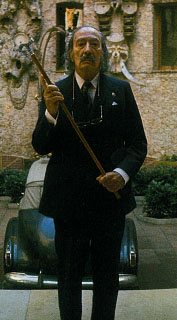 May 11, 1904 - January 23, 1989
Excerpts from "A Brief Biography" at the Webcoast Official Salvador Dali Museum site
Salvador Felipe Jacinto Dali i Domenech was born May 11, 1904, in Figueres, Spain, near the French border in Catalonia. As an adult, he made his home with his wife Gala in nearby Port Lligat.
Among the best-known of his Masterworks are The Hallucinogenic Toreador and The Discovery of America by Christopher Columbus in the Museum's collection and The Sacrament of the Last Supper in the collection of the National Gallery in Washington D.C.
In 1974 Dali opened the Teatro Museo Dali in Figueres, Spain. After the death of his wife, Gala, in 1982, Dali's health began to fail. Much of his later life was spent in seclusion, first in Pubol and later in his apartments at the Torre Galatea, adjacent to the Teatro Museo. Dali died January 23, 1989 in Figueres from heart failure with respiratory complications.
---
http://www.moonchild.ch/Library/Dali.html