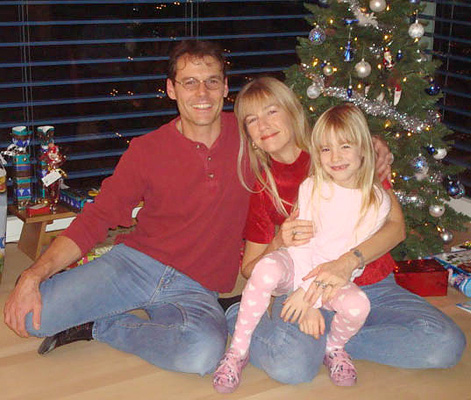 Greetings,
We hope your New Year is getting off to a great start! Last year, we experienced a few fun family trips, discovering new places in our little country. We made a trip to "Tierpark Goldau," where the free-roaming deer and goats brashly joined us for our picnic lunch. We spent a nice weekend visiting friends at their Alpine getaway in Adelboden. We walked through an amazing gorge! And even though we had some rain, it was nice to sit in the chalet with them and play Jass (a complicated Swiss card game) while the kids watched a movie.
In August, we spent a day walking the "Muggestutz" trail high in the Alps. The whole thing is a tourist office brainstorm, and it's been incredibly successful. They hired a former kindergarten teacher to write a children's story and relate it to the panoramic hiking trail. Then they built scenes from the book in the area of the trail. Muggestutz is a dwarf, so everything is perfectly kid-sized. Visiting his little house is the high point of the day, and there are also things like a hanging bridge, mini cable car and the like. We had perfect weather, wonderful views, and alpine cheese. There were acres and acres of wild blueberries. It was very special.
A few days later, we drove to southern Switzerland and took Leah to the Swiss Miniatur park, which is filled with small replicas of Swiss sites, including our two local castles--Schloss Lenzburg and Schloss Hallwyl. From there, we drove up (and up and up) to our amazing hotel, the Park Hotel Rovio, overlooking Lake Lugano. We spent the next day touristing around the city of Lugano. The following morning, we visited one of the castles in Bellinzona, then decided to drive through the San Bernardino Pass. We saw narrow gorges, old stone bridges, lofty ruins and more trees than you can even imagine.
I also got to experience a couple of exciting local events. Mathis and I went to see the Art on Ice show in Zürich. It was exciting to see all the talented figure skaters. I loved it, and Mathis found it "not totally boring." In the summer, I went on a walking tour through the "landscape temple" and surrounding sites of Lenzburg. Each place that we stopped to examine an aspect of the landscape, we also heard a local legend to go with it. It was very interesting, and there were many knowledgeable people there.
Naturally, our travels weren't limited to our own land, but included two wonderful trips to Florida. In the spring, Leah and I traveled without Mathis. We got to enjoy Easter at the Lane, and colored eggs with James Dylan. We only made one visit to the beach, and it was horrible! The whole place from downtown Clearwater to Sand Key was one big construction site. Canoeing at Weeki Wachee was much nicer. The spring-fed river is crystal clear, amazingly beautiful, and easy to navigate. Leah was a good paddling partner, didn't have a fit when we ran into trees and stuff, and was thrilled to see the schools of large fish in the water.
Nanette and I held a "Burnout Clinic" in Key West, which we traveled to by boat from Ft. Myers. We had a great time! Unfortunately, we couldn't go in the water (bacteria). But the sun, the people, the food and drink were all wonderful. The best thing of all was living without a clock.
With Mathis along, our fall vacation was more active. The most important part, of course, was getting to see everybody. Leah loved the times she got to spend with James Dylan, and they each shot a hole-in-one at mini-golf! We met our newest family member--Mark and Heather's new baby Madden--and visited with our oldest family members at the reunion in Chipley. It will more than likely be our last visit there for a while, due to upcoming school. It was fun having the fish fry at Gary and Amy's, and then all the usual activities over the weekend. I love to hear Uncle Eldon preach.
I also took Leah to the Plumb Elementary School Fall Carnival. It was a lot different than in the old days, but it's fun to know that they're still doing it after all these decades. On Halloween, there was a lot of activity in that neighborhood. I got off easy with Leah's princess costume. All I had to do was shorten one of my old bridesmaid's dresses and get a crown.
One of the highlights of our vacation was taking Leah on her first trip to DisneyWorld! We had such an amazing time--participating in a parade, visiting Minnie Mouse at home, and meeting Cinderella and other princesses! The attractions were great, as always, but it's really the people who make it such a special place. They go out of their way to be friendly and helpful, and that makes a huge difference!
At home we spent our time:
~ celebrating Leah's birthday in the spring (3 parties--kindergarten, family, and friends),
~ gardening and kitchen-witching in the summer (we had *tons* of collards),
~ selling on ebay in the fall (made about $500 off stuff from my attic so far), and
~ gearing up to start quilting in the winter (been working on a "fabric art" wall hanging).
You can keep up-to-date with all our activities on my blog at http://www.moonchild.ch/blog.
May God bless and keep you until we meet again.
Love,
Stacey, Mathis and Leah
---
http://www.moonchild.ch/Journal/07.html