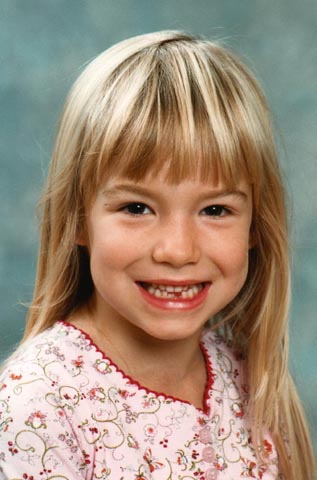 Greetings!
We finally got the pictures from kindergarten, and I just had to include one in this letter rather than a picture of our whole family. You know what Mathis and I look like, and the photographer captured such a nice look on Leah's face--not like that tongue-sticking-out or forced smile she does when anyone else trys to take her picture.
First of all, my apologies for not writing a letter last year. We moved back into our house around Christmastime, and had a huge load of work to do, so I never managed it. We lived at Grandpa's in Boniswil while our house was being expanded and remodeled, and stayed six weeks at Grandma's in Florida. We've been back a year, and have almost gotten everything done. A couple more light fixtures and an end table, and we'll be all set! We made our old bathrooms and kitchen into one big bathroom, added a guest toilet and pantry, split our old living room into two offices, made the dining room into an open kitchen, and added on a large living room and dining room. We've got one corner flanked by a 6'x6' window and a 6'x9' window, with our great view of the lake and mountains. The lower part of our addition is a garage and a hobby room.
Our lives in 2006 were highlighted by a couple of good holidays and parties, including a house-warming party, Leah's Superhero party, and Leah costumed as a "space fairy" for Kinderfasnacht. (In 2005, Mathis made her a totem pole costume which was just fabulous.) This year, she wants to dress as Pippi Longstocking. She told me that we have to get some "frenzli" for her hair. Huh?
Our customary first of August party saw the beginning of a month-long run of bad weather in an otherwise exceptionally nice year. We took a family mini-vacation to Tessin, went hiking and ate pizza. On the way home, we visited some historic Swiss sites, over the Gotthard Pass and through Wilhelm Tell country. Our last stop was a really cool house of mirrors in Luzern, and the manor museum of the proprietor of the Glacier Garden attraction. We really enjoyed it, and it started to remind me of some road trips I took when I was small, and side trips to old sugar mills and the like.
Then we went to Weeki Wachee. I almost had to cry out of nostalgia. We went to Busch Gardens too, and Leah went on a "real" ride by herself. I think it's called the Sandstorm, or some such, and has lots of rotating parts, and I told her there was no way I was going on it. So she went by herself, and had a great time, and I was so happy.
Leah not only started kindergarten in 2006, she is also walking without me, which makes me really happy. I told her I would walk with her as long as she wanted me to, at least til she was six. I also told her I might change my mind when it got really cold. Somewhen she decided she didn't need me anymore, that it would probably be more fun with her three friends and without me. The first time she went without me, they stopped for a snack break on the way home for lunch. Aargh!
One of the fun things they do in kindergarten is once a week, during certain times of the year, go down to the woods and do stuff in the woods. They build a "Waldsofa" in the fall, and use it as an outdoor classroom. A Waldsofa is basically a big round bench, small enough for kids to sit on, and large enough to seat 40 to 50 kids. It's made entirely out of sticks, and the back of the sofa is actually more like a short wall. When it rains, they hang tarps over it from ropes strung between trees. Those kids go fully wrapped and equipped, and they do come home dirty!
We're looking forward to spring, and to our next Florida vacation in April. See you then?
My friends on the Internet can read (slightly) more regular notes from me on my blog:
http://www.moonchild.ch/blog/
---
http://www.moonchild.ch/Journal/06.html