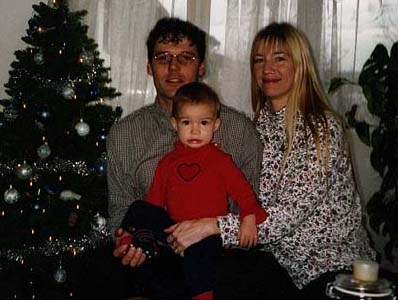 2002 in review
It has been a fascinating year, watching Leah begin to walk and talk and develop other skills which grown people take for granted.
Last year, we walked every street and footpath in our village. In the coming year, we plan to expand our turf with the help of a bicycle gifted to us by Mathis. And speaking of turf, in May we bought the house we're living in. In a couple of years (or months), Dave and Susi will move into the "sister" house next door, which Dave bought. Some day down the road we plan on remodeling it into a one-family house.
Summer was spent in the garden, on the terrace and at the lake. Once Leah learned to walk, she would toddle out to the terrace every chance she would get. In the afternoon, the neighbors and kids would be out there too, playing in the sandbox, on the swingset, in the kiddie pool, or with the numerous toys. Anyway, a couple of bangs and bumps later, and now Leah walks like a pro. In fact, we go out every day, and she walks down the street saying, "walk walk walk walk . . . " Her language skills are really blossoming now.
Of course, the highlights of the year for me were our two vacations in Florida. As always, my mom provided us with her wonderful hospitality. We also got to spend a night in Ft. Lauderdale with John and Suzanne. In March, we only had just over two weeks, but I managed to go to the Renaissance Festival twice! My best friend Nanette was working there, and met a man, and now she's run off to Minnesota with him. Well, she said she's a Vikings fan anyway, because of Dante Culpepper. But, hey, THEY didn't win the SuperBowl. <<Ahem.>>
During our October vacation Leah got to enjoy her first trick-or-treating (or, should I say, "treat-and-treating"?). She caught on to the idea quickly, and not only got a lot of candy, but gave some away too. She looked so cute in her bunny costume, which she picked out herself.
In the next few weeks, I will have to move my website to a new host. The addresses (URLs) should all remain the same. This will be a big project for me, since I want to update the whole site, which is now a whopping 370 MB!!! (And only about a third of it is Leah pictures.)
We just returned from our annual sledding weekend in the Alps, known as the "Fideris Cup." I missed it two years in a row, but this year we were not the only ones who had gone parental. We had 32 people in our group, including two young boys (4 & 6), and three girls between 16 and 20 months old. It was great, and we managed to come away with only sore muscles and bruises, but no serious injuries. The photos should be on-line in a few weeks.
We sincerely hope that 2003 will be a safe and happy year for all, full of peace and prosperity.
Love always,
Stacey, Mathis and Leah
---
http://www.moonchild.ch/Journal/02.html