2000 in review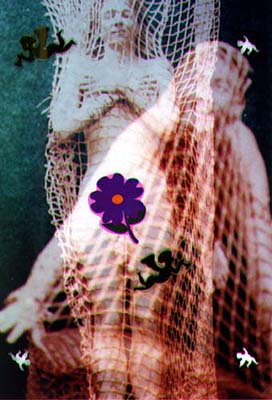 Well, it's been an exciting year, but nothing compared to what 2001 will bring, as we prepare for the arrival of the first little Fingerle (a.k.a. Pinkie). We expect to be parents by the beginning of June, God willing. On our last visit to the obsterician (@ 20 weeks), he couldn't determine if it is a boy joy or a Swiss miss. Either way, it is definitely already the boss of this family!
The past year saw a much-improved neighbor situation after the crazies finally got kicked out. We like our new neighbors MUCH better, and we have a lot in common with them--even a last name!
Spring and summer were highlighted by some great vacations. We were in Gatlinburg, TN in the beginning of May, spending a week in a chalet in the Smoky Mountains before heading to Florida for two weeks. We didn't do a lot of sight-seeing up there, preferring to hang out in the woods with some friends, drinking Mai-Tais and playing dress-up for lots of weird photos. (see cover)
For their annual June fishing trip, Mathis and friends went to Sweden, and he had fun introducing them to "Billy the Big-Mouth Bass." I think it will become a 'pass-around' trophy for years to come. In August, I went to my 20-year high school reunion at the Sheraton Sand Key. Naturally, I won the prize for having travelled the farthest to get there. I had a blast seeing all those people again. They weren't as old as I thought they'd be!
The end of summer featured a few fests and a couple of weddings. Then, as soon as I felt that I was in the best shape I'd ever been in, I got pregnant and started getting fat! By the time we came back from our fall vacation to Florida, I couldn't fit into any of my pants. But I feel justified, because part of it is weight gain from quitting smoking. And Mathis quit too.
Hope y'all have a great year, and that we'll see each other soon!

---
http://www.moonchild.ch/Journal/00.html